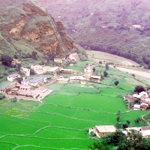 PABBAR VALLEY …Himalayan Wonderland
One of the most unspoiled Valley, with gurgling rivers, proud mountains, simple, loving and amazing people, serenity of picturesque hamlets, fruit-laden orchards cradled by thick forest and set by swift streams, ancient temples and legends and charming architecture. Pabbar Valley has all vital elements to bewitch the most discerning vacations.Pabbar Valley offers something for everybody.

Mother Nature will play hide and seek with you.One moment you might be soothing in mild sunshine, the very next moment you will be ensnared by mist: There are country wild flowers and medicinal herbs, thick woods of flowering rhododendron, cider and birch, waterfalls and fast flowing streams.

The Villages and their temple are remarkable examples of local woodcarving skills-and come packed with fascinating legends.At 4220 m-the Chanshal pass is like the resplendent crown for a noble face. Chanshal slopes have been identified as excellent for heli-sking.

For the adventure seekers, it offers the ultimate experience. Adventurers and thrilling trekking like Giri Ganga and Moraldanda,Buran,Chanshal are an inimitable features of this valley. During these treks one will come across a host of flora and fauna. An invigorating stream passing through the woods provided ideals opportunities for traveler's to have a frockling time in nature fresh water. The gurgling of streams, chirping of birds and murmuring of wind flirting with giant trees gives a musical touch to your stay.

A journey through the unspoiled Pabber Valley dotted with precarious cliffs and exciting rapid thrill revilatise your spirits. Deep down, you would never forget this experience, a cradle in nature, Pabbar Valley.

Importance Distance
Shimla to Jubbal-100 km
Shimla to Hatkoti –120 km
Shimla to Chirgaon – 146 km
Shimla to Nerwa- 140kms

Travels Tips
Excepts the higher reaches, the Pabbar area may be visited at any time of year. Cottons and light woolens for summer, and heavy woolen's and Jackets for winter are suggested. For trekking and camping, necessary equipment may be carried. Petrol pumps are at Shimla, Theog and Rohru.

Altitude:
1500 Mt. to 5000 Mt. ASL

Area:
1031 sq. km.

Accessibility:
Pabbar Valley is located after 80 km, north east of Shimla.in Himachal. The route branches off the National highway (NH-22) old Hindustan – Tibet Road) from Theog and head towards the Pabbar Valley and beyond to Sangla and Uttaranchal.

Overwhelm yourself with the virgin beauty of shimering lakes, gurgling rivers, proud mountains, simple and loving people. Pabbar is an Adventure lover's dream come true and a retreat for the urban dweller from the daily humdrum of cosmopolitian life into the caressing lap of nature.

Pabbar offers some thing for everybody, for the adventure seekers it offers the ultimate experience ranging from the soft treks like the Kuper Valley Trek to the hardest like Chanshal Trek undertaken on the frozen river. For not so adventures, there are Jeep Safaries criss crossing the whole region, leting you enjoy the adventure of knowing the unknown by guiding you through it. For the culturally inquisitive the vibrant colours of its socio - religious fabric weave, an enticing spell and for the spiritually inclined it offers a splendid opportunity to be one with onself. For the nature lover, the affable mountains welcome them in a profussion of colors

A lands so remote yet with in your grasp. Where the only noise you hear are the silent echoes of yours thoughts. Set tetea-tete with yourself, your family or friends at the isolated Pabbar and enjoy the proximity.

Come & discover your own reson to a visit to this place. Explore a whole new visage of mountains. Welcome to a untravelled path ............. Pabbar !